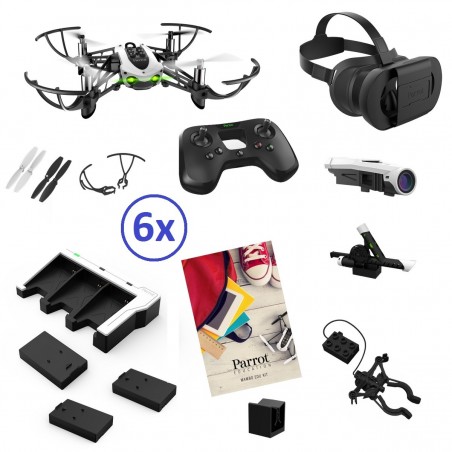  
Parrot Mambo FPV EDU KIT
DISCONTINUED
These packs are the perfect tool to make learning fun. As you teach your students to code, they'll be program Parrot Mambo to move forward or in a specific direction. Parrot Mambo is a robust, easy to fly minidrone and is safe to use or program in a classroom. Thanks to Tynker's visual programming language, no previous experience with coding or drone flying is necessary!
If you have any questions on this product please feel free to contact us.
*Disclaimer: The images are merely illustrative.

MAMBO ADVANCED - 6 pack
DRONES
6 Mambo "FPV" boxes:
- 6 Parrot Mambo drones
- 6 HD batteries
- 24 hulls (4 per drone)
- 6 clips
- 6 FPV cameras
- 6 cockpit glasses
- 6 Flypad controllers
EXTRA
6 extra HD batteries
6 PowerPack chargers + HD battery
6 cannons 
6 grabbers
6 hulls packs (2 hulls in each pack)
6 propellers packs (4 propellers in each pack)
CURRICULUM
Tynker "Drones 101" programming course for 30 students
Welcome booklet
TYNKER DRONE 101 PROGRAMMING COURSE:
10 MONTHS ACCESS TO TYNKER DRONES 101 PROGRAMMING COURSE.
This program is designed for classes of up to 30 students with 2 interfaces:

The student interface lets you code and access lessons and quizzes
(11 lessons & DIY projects).
The teacher interface lets you assign lessons and monitor the students' results.

LIST OF COMPATIBLE SOFTWARES: