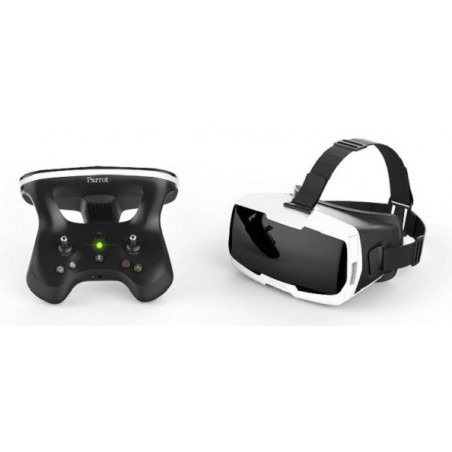  
If you have any questions on this product please feel free to contact us.
*Disclaimer: The images are merely illustrative.
The essential pack for intense, immersive flights.
Already have a Parrot Disco or Parrot Bebop 2 drone? This pack is made for you! Use your smartphone to easily enter a new flight dimension. Admire a unique view from the sky with the latest-generation FPV googles, Parrot Cockpitglasses. With Parrot SkyController 2, the new compact remote control, connected to your smartphone, enjoy high-definition video streaming for long-distance flights in total immersion.
Fly in total immersion
Discover FPV (First Person View) and completely immersive flights with the Parrot Cockpitglasses. Simply place your smartphone inside and dive into the heart of the image. Pilot your Parrot Disco or Parrot Bebop 2 drone with the Parrot Skycontroller 2 and get on board for incredible moments of flight!
Control your long-distance flights
Parrot Skycontroller 2 guarantees flight precision. Do you take lots of photos? Do you prefer height or speed? According to your requirements, set your controls by activating the short-cut buttons on the FreeFlight Pro mobile application and set off to explore every corner of your itinerary!
Take them everywhere
Efficient... and practical! Thanks to their compact design, the Parrot Skycontroller 2 and the Parrot Cockpitglasses are very easy to take with you. For optimal comfort when flying your drone, a backpack is all you need!!
TECHNICAL SPECIFICATIONS
Parrot SKYCONTROLLER 2
Weight
500g
Dimensions
200x180x110mm
2 joysticks, 8 shortcut buttons
Battery Li-Po
2700mAh
Battery life
240 minutes
Plug
USB
Wifi
MIMO antennas
Parrot COCKPITGLASSES
Weight
390g
FOV
90°
Compatibility

Compatible with a range of smartphone brands thanks to the adjustabole dock for smartphones. Compatible are smartphones with screen sizes from 4,7" to 5,7" and a thinkness from 6mm to 9,5mm.
MOBILE APP
Free Flight Pro is an app dedicated to advanced flight with drones. The interface was designed for you to use with FPV glasses and enjoy total immersion. All your routes, photos, films and data are saved. You can find them easily and share your feats on Youtube. With this edition, you can access Flight Plan, a fee-paying solution for creating highly precise autonomous flight plans (altitude, speed, camera angle, etc.). Now, get started!
SHIPPED WITH
1 Parrot SKYCONTROLLER 2
1 Parrot COCKPITGLASSES
1 Removable mount for smartphone or tablet
1 USB cable
1 Charger + cable
1 Quick start guide