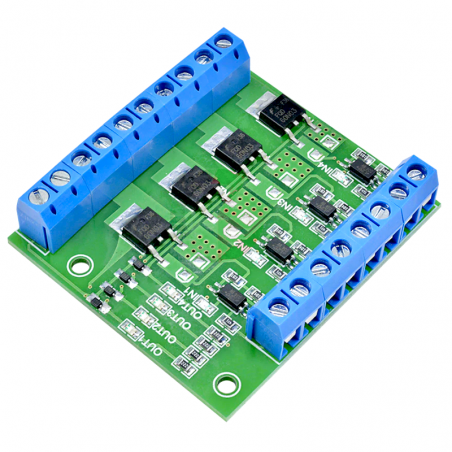  
4 Channel MOSFET F5305S Module for Arduino with optocouplers
The module is based on 4x FET model F5305S. We can input PWM signal to control motor speed, lightness of bulb, etc.
If you have any questions on this product please feel free to contact us.
*Disclaimer: The images are merely illustrative.
FET module, input and output totally isolated from each other.
Signal trigger: digital high/low signal, can be connected to IO of micro-controller, PLC interface, DC power supply, etc.
The output can control high-power devices: motor, light bulb, LED light & strips, DC motor, small pumps, solenoid valve.
Input signal voltage: 3V~20V; Input current: about 5mA.
Output voltage: 5V~36V(Current: within 5A, Max. current is 20A. When current is over 5A, please add heat sink).
Input Signal: Voltage: 3V~20V; Current: 5mA 
Output: Voltage: 5V~36V; Current: within 5A
1 x Trigger Switch Module
You might also like