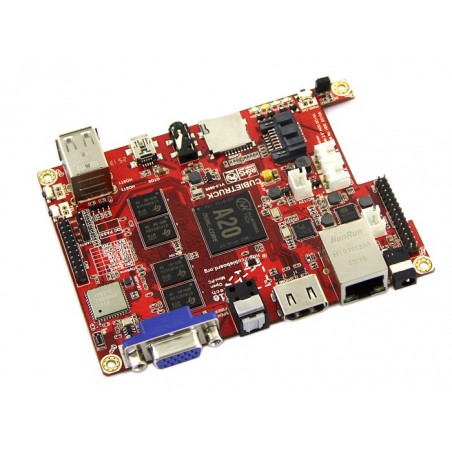  
Cubietruck, mini PC
The Cubietruck (also named Cubieboard3) is the 3rd board of Cubieteam. It's an ARM mini PC running various Linux distros and/or Android system.
As the cubieboard2, Cubietruck features the Allwinner A20 (ARM cortex-A7 dual-core processor) onboard. What's more, it provides many enhancements like: 2GB DDR3 memory, 10M/100M/1G Ethernet PHY, WiFi+Bluetooth, VGA output, etc.
If you have any questions on this product please feel free to contact us.
*Disclaimer: The images are merely illustrative.
What's On Board
Processor

AllWinner SOC A20, ARM® Cortex™-A7 Dual-Core, ARM® Mali400 MP2 Complies with OpenGL ES 2.0/1.1

Features

2GB DDR3@480MHz
Power input 5V@2.5A with HDD, supports Li-battery & RTC
SATA 2.0 interface support 2.5' HDD (for 3.5' HDD, another 12V power supply is required)
Wifi + BT wireless connection with antenna on-board BCM AP6210
RTL8211E 10M/100M/1G Ethernet PHY
HDMI&VGA 1080P display output
Storage solution: NAND + MicroSD or TSD+ MicroSD or 2 x MicroSD
2 x USB HOST, 1 x OTG, 1 x SPDIF, 1 x IR, 4 x LEDs, 1 Headphone, 3 x Keys
54 expansion pinheaders including I2S, I2C, SPI, CVBS, LRADC x2,UART, PS2, PWMx2, TS/CSI, IRDA, LINEIN&FMIN&MICIN, TVINx4 with 2.0 pitch connectors

Misc

Size: 11cm x 8cm x 1.4mm
Running Android, Ubuntu and other Linux distros. Pre-installed Android 4.2.2.
---
Photos
---
Comparing the Cubieboards
| | | | |
| --- | --- | --- | --- |
| | Cubieboard | Cubieboard2 | Cubietruck |
| Size | 10cm x 6cm | 10cm x 6cm | 11cm x 8cm |
| CPU | Cortex-A8 | Cortex-A7 Dual-Core | Cortex-A7 Dual-Core |
| CPU Clock Frequency | 1GHz | 1GHz | 1GHz |
| RAM | 1GB DDR3 | 1GB DDR3 | 2GB DDR3 |
| Flash/NAND | 4GB | 4GB | 8GB |
| WiFi/Bluetooth | - | - | On-board |
| SATA | SATA 2.0 | SATA 2.0 | SATA 2.0 |
| RTC | - | - | Li-battery and RTC on-Board |
| GPIO | 96 extend pins | 96 extend pins | 54 extended pins |
| USB Host/OTG | 2xUSB 2.0/ 1xMini USB 2.0 | 2xUSB 2.0/ 1xMini USB 2.0 | 2xUSB 2.0/1xMini USB 2.0 |
| Video Out | HDMI | HDMI | HDMI/VGA |
| Audio Out | HDMI/ SPDIF/ Headphone | HDMI/ SPDIF/ Headphone | HDMI/ SPDIF/ Headphone |
| OS | Linux/Android | Linux/Android | Linux/Android |
Downloads
Development resources:schematic, software, etc.
Wiki: www.waveshare.com/wiki/Cubietruck
You might also like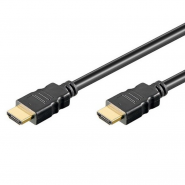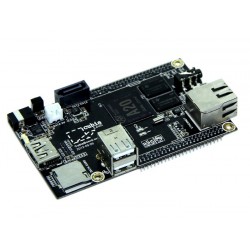 Regular price
€70.33
-€27.00
Price
€43.33