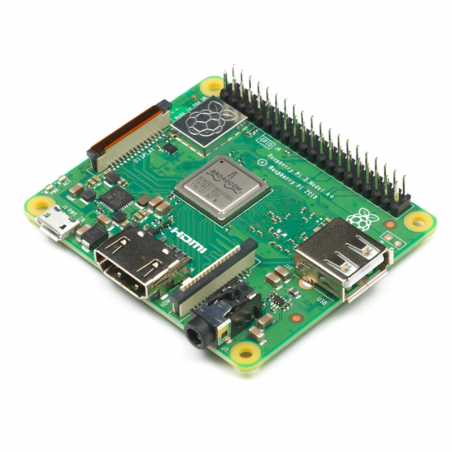  
Raspberry Pi 3 Model A+, BCM2837B0 SoC, Dual-Band WiFi, IoT
1.4GHz 64-bit quad-core processor, dual-band wireless LAN, Bluetooth 4.2/BLE in the same mechanical format as the Raspberry Pi 1 Model A+
If you have any questions on this product please feel free to contact us.
*Disclaimer: The images are merely illustrative.
Specifications
The Raspberry Pi 3 Model A+ extends the Raspberry Pi 3 range into the A+ board format.
Broadcom BCM2837B0, Cortex-A53 (ARMv8) 64-bit SoC @ 1.4GHz
512MB LPDDR2 SDRAM
2.4GHz and 5GHz IEEE 802.11.b/g/n/ac wireless LAN, Bluetooth 4.2/BLE
Extended 40-pin GPIO header
Full-size HDMI
Single USB 2.0 ports
CSI camera port for connecting a Raspberry Pi Camera Module
DSI display port for connecting a Raspberry Pi Touch Display
4-pole stereo output and composite video port
Micro SD port for loading your operating system and storing data
5V/2.5A DC power input
Software & OS
Software installation
Beginners should start with the NOOBS (New Out Of Box Software) operating system installation manager, which gives the user a choice of operating system from the standard distributions.
SD cards with NOOBS pre-installed should be available from any of our global distributors and resellers. Alternatively, you can download NOOBS.
Raspbian is the recommended operating system for normal use on a Raspberry Pi.
Find help with installing Raspbian on your Pi in our online Getting startedguide.
You can browse basic examples to help you get started with some of the software available in Raspbian, find more detail about the Raspbian operating system, or read information on fundamental Linux usage and commands for navigating the Raspberry Pi and managing its file system and users.
Documents
Compliance
The Raspberry Pi 3 Model A+ has undergone extensive compliance testing, and meets the following European standards:
Electromagnetic Compatibility Directive (EMC) 2014/30/EU
Restriction of Hazardous Substances (RoHS) Directive 2011/65/EU
View and download global compliance certificates for Raspberry Pi products.
The dual-band wireless LAN comes with modular compliance certification. This allows the board to be designed into end product with significantly reduced wireless LAN compliance testing, improving both cost and time to market.
Obsolescence Statement
Raspberry Pi 3 Model A+ will remain in production until at least January, 2023