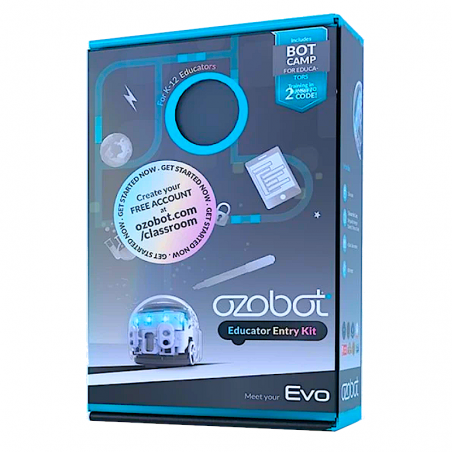  
Ozobot Evo Educator Entry Kit
Product Highlights
Ozobot Evo Educator Entry Kit
Offers five skill levels for beginner to master coding
Designed for K–12 educators
Comes with a proximity sensor and optical sensor
Provides Bluetooth smart connection up to 30 feet range
Access to 150+ free STEAM lessons
Compatible with Ozobot Classroom
If you have any questions on this product please feel free to contact us.
*Disclaimer: The images are merely illustrative.
Ozobot Evo is one of the smallest programmable robots in the world and will allow children and students to learn programming in a fun, simple and intuitive way. 
Description
Ozobot Evo Educator Entry Kit
Offers five skill levels for beginner to master coding
Designed for K–12 educators
Comes with a proximity sensor and optical sensor
Provides Bluetooth smart connection up to 30 feet range
Access to 150+ free STEAM lessons
Compatible with Ozobot Classroom
The Ozobot Evo Educator Entry Kit teaches you to code Evo in two ways: online with OzoBlockly and screen-free with Color Codes.
OzoBlockly, powered by Google's Blockly, has five skill levels for beginners to master coding. Color Codes, made with markers on paper, teach basic STEAM skills, critical thinking, and debugging.
Specifications
Bluetooth Smart connection (30 ft. range)
Ozobot Classroom connectivity
Proximity sensors
Optical sensors
LED lights
Built-in speaker
Strong polycarbonate shell
New feature firmware updates
Rechargeable LiPo battery (60 min. charge time)
What's Included
1 x Evo robot
1 x Charging cable
4 x Color Code marker
1 x Educator Bot Camp
Find downloadable lessons and resources for Ozobot below:
You might also like