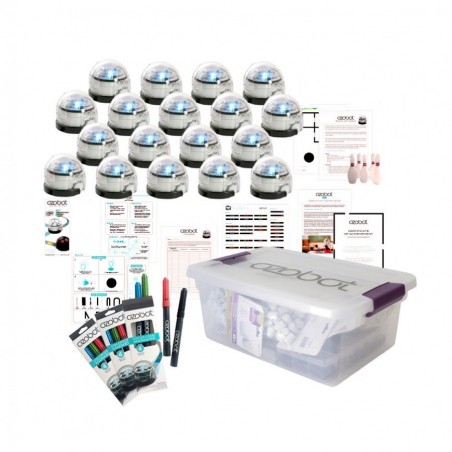  
Ozobot Bit 2.0 Classroom Kit (18 robots)
Classroom Kit with 18 small Ozobot Bit robots
Recommended for children from 6 to 10 years old
Visual coding with optical sensors and OzoCodes
Block programming with OzoBlockly
Hands-on learning for educators to teach coding, STEM, art, history
If you have any questions on this product please feel free to contact us.
*Disclaimer: The images are merely illustrative.
Classroom Kit with 18 small Ozobot Bit robots
Recommended for children from 6 to 10 years old
Visual coding with optical sensors and OzoCodes
Block programming with OzoBlockly
Hands-on learning for educators to teach coding, STEM, art, history
The Ozobot Bit Classroom Kit comes with 18 Bits and everything else you need to introduce Ozobot to your students. It is recommended for grades K through 8. This kit is an affordable and portable way for educators to teach coding, STEM, art, history, and other subjects way beyond STEM.
Ozobot is a small smart robot that is programmable with drawn lines, color codes and through our easy-to-use OzoBlockly editor in which you can create autonomous behavior and complex programs. Your students will learn robotics and programming with a hands-on approach. Ozobot makes STEM/STEAM engaging and seamlessly supports lessons ranging from math and science to art and literature.
Elementary students can start programming Ozobot with OzoCode color codes on a tablet with a free app, or with markers and paper. After that, students advance by coding programs for Ozobot on a computer or tablet with OzoBlockly, our block-based coding editor.
You might also like