DISCONTINUED
On sale!
-€49.95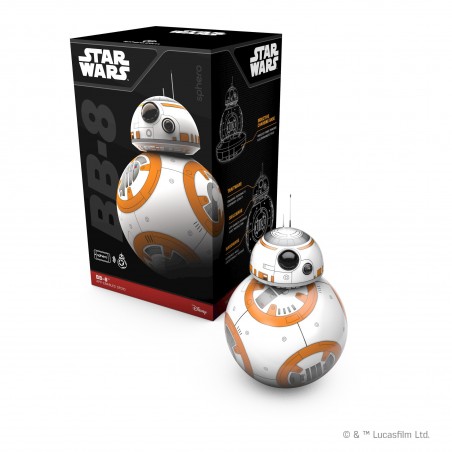  
Sphero - BB-8 App-Enabled Droid
Over the years, the magic of Star Wars™ has always lived on screen and in our imaginations. Thanks to our advancements in technology, we've made it possible to bring a new part of Star Wars: The Force Awakens™ into your home.
Meet BB-8™ - the app-enabled Droid™ that's as authentic as it is advanced. BB-8 has something unlike any other robot - an adaptive personality that changes as you play. Based on your interactions, BB-8 will show a range of expressions and even perk up when you give voice commands. Set it to patrol and watch your Droid explore autonomously, make up your own adventure and guide BB-8 yourself, or create and view holographic recordings.
It's now possible to explore the galaxy with your own trusty Astromech Droid by your side. BB-8 is more than a toy - it's your companion.
Features
Authentic Movement // Guide your BB-8 with a smartphone or tablet
Listens & Responds // BB-8 recognizes and reacts to your voice
Holographic Communication // Record and view virtual holographic videos with BB-8
Autonomous Behavior // BB-8 has a mind of its own - explore the Star Wars™ galaxy together
Adaptive Personality // Your BB-8's unique attitude and actions evolve as you interact
What's in the Box
BB-8 App-Enabled Droid
Induction Charging Base
Micro USB Cable
Quick Start Guide
Legal Guide
Tech Specs
iOS & Android & Window Phone compatible
Top speed of 4.5 mph (7ft/s)
Durable polycarbonate shell
Bluetooth Smart BLE connection (100 foot range)
Inductive charging (over 1 hour of play on a full charge)
Free App: BB-8 App-Enabled Droid powered by Sphero available through iTunes, Google Play or Windows App Store
Internal guidance system includes a gyroscope and accelerometer.
Height: 11.4 cm / Width: 7.3 cm / Weight ~200 g
See if your device is compatible here.
WARNING : Click here for California Proposition 65 information
Video
You might also like